Richard Thomas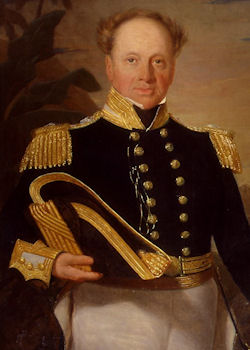 Richard Darton Thomas was born in Saltash on the 3rd of June 1777. He was still short of his thirteenth birthday when he joined the Royal Navy as an able-bodied seaman on Cumberland in 1790. His intelligence and pleasant manners won the regard of his officers, and he was raised first to midshipman and then to master's mate. Afterwards he was in Blanche until she was paid off in June 1792, then the sloop Nautilus, in which he went to the West Indies. He was in Boyne under Sir John Jervis when Martinique was captured, and returned in her to England.
At Spithead, on the 1st of May 1795, fire broke out aboard Boyne. The marines had been exercising and firing on the windward side, and it is theorised that some ignited paper from their cartridges blew into the admiral's cabin and set fire to some papers on the table there. The fire was only discovered when flames burst through the poop, and it spread so rapidly that in less than half an hour the ship was ablaze from bow to stern. All but eleven of Boyne's crew were taken off by other ships of the fleet, but the heat set off her loaded guns, killing two men and wounding one on board Queen Charlotte. Eventually the fire reached Boyne's magazine and she blew up.
Rescued from the wreck of Boyne, Thomas was afterwards in Glory and Commerce de Marseille in the English Channel, and in Barfleur and Victory in the Mediterranean. On the 15th of January 1797 he was promoted lieutenant of Excellent, in which capacity he played his part in the battle of Cape St Vincent on the 14th of February. Excellent was acknowledged by Nelson to have taken a very distinguished share of the action, and to have rendered him the most effectual support in the hottest part of the battle. Thomas continued in Excellent off Cadiz until June 1798, when he was moved to Thalia. In February 1799 he was transferred to Defence, in December to Triumph, and in October 1801 to Barfleur, Collingwood's flagship, where he remained on Channel service until the suspension of hostilities in 1802. During the peace he was stationed off Halifax, first in Cambrian, then in Leander, and was promoted commander of Chichester on the 18th of January 1803.
In June 1803 Thomas left Nova Scotia as a passenger on board the packet Lady Hobart, bound for England under the command of Captain Fellowes. Some six days out of Halifax, Lady Hobart struck an iceberg and sank, leaving her 29 passengers and crew crowded into two small and poorly-provisioned boats where they suffered seven days of hardship before making landfall at Cove Island, Newfoundland. Captain Fellowes, in his report on the loss of Lady Hobart, made "particular mention of Captain Richard Thomas, r.n., from whose great professional skill and advice throughout our perilous voyage I derived the greatest assistance." On the 11th of July Thomas and Fellowes took passage together for England via Oporto, this time making the voyage without mishap.
Back in England Thomas was appointed, in December 1803, to command of the bomb-vessel Ætna, in which he joined the fleet under Lord Nelson in the Mediterranean, where he was very actively employed up to the battle of Trafalgar. Immediately afterward he was posted to Bellerophon, from which he was moved to Queen as flag-captain to Lord Collingwood, with whom, in Ocean and Ville de Paris, he continued until Collingwood's death in March 1810. He remained in Ville de Paris until December, and in February 1811 he was appointed to Undaunted, employed in co-operation with the Spanish patriots off the coast of Catalonia. He subsequently commanded a squadron stationed in the Gulf of Lyons, blockading Toulon. In February 1813, after nine years' continuous service in the Mediterranean, he was obliged by ill health to return to England.
From 1822 until 1825 Thomas was captain of the Ordinary at Portsmouth, and served in the same capacity at Plymouth from 1834 until 1837. In between these two appointments, on the 2nd of October 1827, he married Gratiana, the third daughter of Lieutenant-General Robert Williams, Colonel-Commandant of the Royal Marines at Stonehouse. The couple later had two children, a son and a daughter. Thomas became rear-admiral on 10 January 1837, and was commander-in-chief in the Pacific from May 1841 until December 1844, where his duties were more diplomatic than military. He was involved in obtaining compensation for British residents of San Salvador and Costa Rica, and had to deal with the occupation of Tahiti by the French Rear-Admiral Dupetit Thouars, and the unauthorized annexation of the Sandwich Islands by one of his own subordinates. His conduct was commended by the British government, and he also received the thanks of the United States government for helping Americans resident in the Sandwich Islands, and was appointed an honorary member of the American Board of Commissioners for Foreign Missions.
Promoted vice-admiral on the 8th of January 1848 and admiral on the 11th of September 1854, Admiral Richard Darton Thomas died on the 21st of August 1857, and was buried at Stonehouse on the 27th.
page updated 2016-06-07