Ann Glanville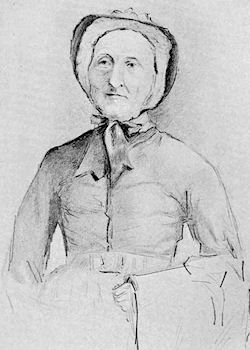 Ann Glanville (nee Warren) was born on the 2nd of April 1796 to a Saltash waterman's family. She married young, and bore fourteen children. Ann and her husband operated the ferry between Saltash and St Budeaux, but her husband fell ill and became an invalid, unable to work. From then on, Ann had to support the whole family. She worked from early to late, running the ferry by herself and carrying goods by water, regularly rowing between Sutton Pool (on the far side of Plymouth) and Budshead Mill (two miles above Saltash), a distance of some ten miles.
Regattas were popular events in Victorian times. Saltash, Saltash Passage, Torpoint, Plymouth, and Sutton all had their own regattas with amateur and professional races for many classes of boat rowed by crews both male and female. As well as the scheduled races, there were occasional open races and private challenges.
Ann organised a crew of female rowers, herself rowing as stroke woman. She and her Saltash Women's crew took second prize in a four-oared gig race at the 1833 Plymouth Regatta, and for the next fifteen years they dominated the women's racing in the area.
Ann and her crew were usually classed as professional and raced four-oared gigs. Rarely beaten by other women's crews, they often won in open races against amateur male crews, but seem to have seldom raced and never won against professional male crews. One of their sponsors was Mr Waterman, and another was Captain Russell, of the steamer Brunswick. Their motivation for sponsorship was probably advertisement for boats and steamship services, plus excellent betting opportunities at venues where the women's prowess was as yet unknown. With Ann and her crew becoming well known in the local area her sponsors arranged for them to travel further afield where they were less well known and the odds would be better.
At the 1842 Portsmouth regatta Ann's crew raced in a Waterman boat, first against a local women's team then against a number of amateur male crews, winning both races. One bet, however, did not go according to plan – on arrival at Portsmouth their sponsors had accepted a challenge from officers of the 36th Regiment to race for a purse of £100 but, after seeing the women row, the officers withdrew their challenge.
At Le Havre a French male crew also refused to race against the Saltash Women in 1842, excusing themselves on the grounds of chivalry. So as not to disappoint the 20,000 spectators, another crew was hastily formed from volunteers among the seamen on the British paddle-steamer Grand Turk which had brought Ann and her crew to Le Havre. Needless to say, Ann's crew won the race against this unpractised crew.
In 1847 Ann and her crew made an expedition to the North, touring to a number of regattas including Fleetwood, Hull, and Newcastle. Ann would later boast about meeting and being praised by Queen Victoria at Fleetwood, but this may have been a 'tall tale' because the boat taking Ann and her crew to Fleetwood had actually been delayed by bad weather in Dublin and only arrived there after the regatta had finished. At the Hull Regatta they first raced and beat five teams of English sailors in jolly boats, then fought a very dirty race against a picked team of watermen, their male counterparts, which the women won on a technicality. Afterwards they were posed on stage at the Hull Theatre, in a boat, in full costume of white dresses, caps, and ribbons, while the band played 'See the conquering heroes come' followed by 'Rule Britannia'.
This appearance was followed by another in 1848, when they rowed at Plymouth Regatta to win a new boat donated by Mr Newcombe of the Theatre Royal. Mr Newcombe got full publicity value out of his donation when crew and boat were carried on to the stage of the Theatre at a Regatta performance attended by the Commodore and Members of the Royal Western Yacht Club. Wine was handed to the gallant heroines, and Ann rose up and gave, with the utmost nonchalance, "Here's to the health of the ladies and gentlemen of the Royal Western Yacht Club". The band struck up 'Rule Britannia' and general applause followed.
There is no record of how much sponsors and oarswomen profited from these races, but Anne herself made a considerable amount of money, and saved enough of it to spend a long, healthy, and happy retirement among her family at Saltash. When she was in her 60s she refused a request to row a demonstration match for £1, saying the fee was so small that it was an insult to a rower of her standing. Regularly introduced to distinguished visitors to the town, she became something of a local lion in her old age and loved to remenisce about her exploits to anyone who would listen. One event which Ann particularly liked to recall was the visit in 1879 of the Prince of Wales and the Duke of Edinburgh (the two eldest sons of Queen Victoria) to Plymouth in connection with the building of the new Eddystone Lighthouse, when she was specially sent for to dine aboard the Royal Yacht. Taking this honour in her stride, she cracked jokes with the two princes and, in her own words, "had a hearty good laugh with them!"
Ann died peacefully on the 6th of June 1880 at the ripe old age of 84. Her funeral, four days later, was reported in Doige's Annual of 1881: "The funeral cortege started from the house shortly after three o'clock, preceded by a hearse accompanied by the orthodox number of bearers. In addition to the children and grandchildren of the deceased and the number of those of the family who were able to be present was about twenty, several of the chief residents of Saltash followed the deceased to her last resting place in a shady quiet nook of the picturesque yard of St Stephen's Church. Mr Gilbert, who to a very large extent may be regarded as the representative of Saltash joined in the procession, and there were also present Mr Vosper, Mr J Rawlings, Mr S Rawlings, Mr J H Youlton, Mr W Warren. A number of the inhabitants of the borough followed the hearse and as the procession passed through the town, a general feeling of sympathy was shown. On arriving at St Stephen's Church, the Vicar, Rev A Noel, MA met the funeral at the outer gate and led the way into the imposing old parish church where the service was very impressively read by the Vicar. The grave lay in a quiet part of the churchyard and the ceremony as conducted by Mr Noel was very affecting."
Many of the stories about Ann Glanville and her crew have grown in the telling. Ann herself, like other story tellers, doubtless embellished her remeniscences to some degree. However, Ann Glanville was still a remarkable women and an inspiration to many. In the words of a neighbour: "Her was honest to a farthing, clean as a smelt, and kind-hearted as a queen."
page updated 2016-06-07