'Nandie' Keast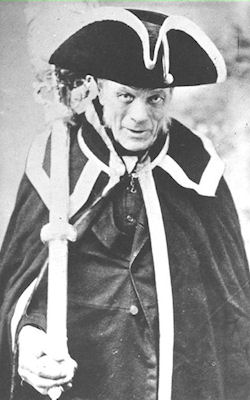 Born at Forder in 1803, Nandie was a tailor by trade, but on the 21st of September 1846 he was enrolled as town sergeant, a post whose many duties included the offices of verger to St Nicholas Church, town crier, and official bill poster. He became senior sergeant, responsible for keeping order and for the town gaol, at a time when the Borough held jurisdiction over not only Saltash but also the Tamar, Tavy, and Lynher Estuaries, Plymouth Sound, Cattewater, and the Hamoaze.
Bearing a pocket-sized silver oar as proof of his authority, and armed with a substantial oak truncheon to support it, Nandie was often called upon to collect various dues or to arrest fugitives and criminals on board vessels, a duty which he performed with tact and courage. It is recorded that on one occasion he single-handedly took five mutineers from a ship in the Sound, and marched them all the way to the Saltash lock-up. The men had been confined in irons on the vessel, as the captain was afraid of them, but Nandie's confidence cowed them.
On one memorable occasion, he boarded a vessel in Plymouth Sound to collect the Port Dues, but the captain was in an argumentative mood and took Nandie down to his cabin to discuss matters over a bottle. After a few glasses of strong drink and a short nap, Nandie came on deck to find that the crew had weighed anchor and set sail for the Channel Islands. Nandie, instead of getting a shilling, got an involuntary voyage to Jersey, where the vessel discharged and was re-laden. Returning to England, the captain dropped Nandie, none the worse for his unpremeditated trip, at another port to find his own way home.
Nandie firmly believed that his head was harder than any other person's and he was in the habit of proving this by using it to crack Brazil nuts against a doorframe. (He even attempted to bequeath his skull to a local doctor, but 19th century sentiment and regulations did not permit such a bequest to be acted upon.) During the course of his duties, in the event of opposition or attack, he would follow up a rap with his truncheon by head-butting the delinquent, which was generally conclusive!
Nandie survived three wives, and from 1851 resided in the old and abandoned Town Hall over the lock-up, or 'Black Hole'. On the site in Lower Fore Street now occupied by the Essa Club, and unused for many years by anybody except Nandie and his prisoners, the building was demolished after Nandie's death. During his lifetime, however, potential miscreants were well-aware of Nandie's motto:
"For if you're naughty
T'was well to know
The Black Hole 'ud open
And in you'd go!"
In 1887 Nandie was tipped out of a cart during the local celebration of Queen Victoria's jubilee. Just able to remember the jubilee of King George III in 1810, Nandie remarked that at that celebration also he had met with an accident, having been hit during some stone throwing.
A picturesque figure, with his shovel hat and official cloak, and carrying one of the handsome silver maces belonging to the Borough, Nandie was present at the Armada Tercentenary in 1888, and at the unveiling of the Armada Memorial in 1890. The latter was his last official appearance, although in November 1890 he fulfilled his role in the election and installation of the new Mayor of Saltash.
Town Sergeant of the Borough for 45 years, Nandie Keast died on New Year's Day 1891, aged 87. His funeral was attended by a large crowd. Almost every member of the Corporation was present, and acted as bearers from the church to the grave. Unfortunately, the grave was a little too small, and the coffin could not at once be lowered. Irreverent youths who had long gone in awe of their Town Sergeant promptly spread the report that Nandie, always of a dogged nature, would not "go down" but kept bobbing up and asking for his favourite beverage, two pennyworth of rum!
page updated 2016-06-07