Evan Nepean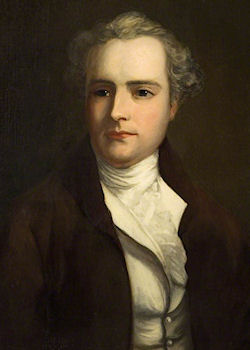 Nicholas Nepean, the innkeeper of the Green Dragon in Fore Street, and his Welsh second wife, Margaret, had five children. Evan, their second son, was born on the 19th of July 1752 at the Green Dragon, and baptised on the 25th of August.
On the 28th of December 1773 Evan Nepean joined HMS Boyne at Devonport, serving as a civilian clerk to Captain Hartwell. Promoted to purser on the 31st of October 1775, while in Falcon at Boston, Nepean joined Admiral Molyneux Shuldham on the 30th of April 1776, serving as his secretary first in Bristol then in Ocean at Plymouth. Nepean was appointed purser in Achilles at Deptford on the 3rd of February 1778, moved to Hero on the 1st of September 1778, and finally, in April 1780, to Foudroyant under Captain John Jervis, who noted his "superior talent for business, unremitting diligence and integrity." Nepean remained on Foudroyant's books until the 25th of June 1782. However, on the 3rd of March that year Lord Shelburne had appointed him Permanent Under-Secretary of State at the newly-formed Home Office, an amazing promotion which suggests that his naval service may have included some intelligence work as well as normal purser's duties. He went on to become one of the most successful civil servants of his day.
On the 6th of June 1782 Nepean married Margaret Skinner, the only daughter of Captain William Skinner, at the Garrison Church in Greenwich. According to Nepean's memorial in the parish church at Loders they went on to have six sons and two daughters, but there seem to be records for only five offspring: Harriet, Molyneux Hyde (later Sir Molyneux, 2nd Baronet Nepean), Frederick, William, and Evan (later the Reverend Evan Nepean, Canon of Westminster from 1860-73 and Chaplain In Ordinary to Queen Victoria).
At the Home Office, Nepean came to have responsibility for naval and political intelligence, and was involved in the negotiations for the peace of 1783, regulations for the government of Ireland, the conviction or pardoning of convicts, the planning and administration of the first convict settlement in New South Wales, and arrangements for botanical expeditions (including Bligh's famous expedition in Bounty). All these responsibilities and his constant hard work affected Nepean's health, and from 1789 he was forced to take time off each year recovering his energies at Bath or in the country. From March 1783 he had held the sinecure appointment of naval officer in Grenada, Dominica, and Barbados, and in December 1791 his chief, Lord Grenville, procured for him the better-paid sinecure of clerk of the peace and chief clerk of supreme court in Jamaica, in appreciation of his achievements and to prevent him from "killing himself by his labours". Nepean spent from December 1791 to May 1792 in the West Indies, hoping thereby to improve his health. In January 1793 William Huskisson joined the Home Office team, becoming his confidential assistant in his "immense occupations", and, with some of the pressure thus taken off him, Nepean's health improved.
Huskisson noted that Nepean was "no less remarkable for his indefatigable attention to business, than for his upright and honourable conduct". He counted William Pitt among his personal friends, and George III relied on his discretion to the extent that he dealt with him direct on day-to-day government business and for problems of the household. In 1794 Nepean became Under-Secretary of State for War, and in 1795 he was appointed secretary to the Board of Admiralty, possibly through the influence of Admiral Sir John Jervis, under whom he had served on Foudroyant fifteen years before. In this new position he remained a key figure in home and foreign secret service, the king decreeing that "Mr Nepean alone must be employed" in the "executive part of the nautical arrangements" for a secret plan to invade Spanish settlements in South America.
In 1796 Nepean became Member of Parliament for Queenborough. In 1799 he bought Loders Court, near Bridport in Dorset, and in January 1802 successfully contested that borough, but was noted for not speaking in the house. On the 16th of July 1802 he was created 1st Baronet Nepean, of Bothenhampton, and was admitted to the Privy Council in 1804. In February 1804, against his better judgement, Nepean became Chief Secretary for Ireland. He proved to be out of his element in Dublin, leaving Ireland in mid-May, and returning to the Admiralty as a junior lord in September. His official career ended in February 1806, but he remained a privy councillor, continued to represent Bridport until 1812, and kept the sinecure in Jamaica until 1819.
In 1812, after six years out of office, Nepean accepted the East India Company's appointment as governor of Bombay, where he remained until 1819. This posting gave him scope for his long-term botanical interests. He corresponded with Sir Joseph Banks on the subject of plants and seeds that he sent back to England, notably the best varieties of vines, teak, and peach trees from Persia, and "every species of flowering plants" from the west coast of India. He is remembered there for being the co-founder and first president of the Bombay Education Society, the oldest Society in the city working for the welfare and upbringing of children.
He was made a fellow of the Royal Society on the 4th of May 1820, and was appointed Sheriff of Dorset in 1822, but died in office that same year. Sir Evan Nepean, 1st Baronet, died at Loders, his country estate in Dorset, on the 2nd of October 1822, and was buried in the family vault at Loders church on the 16th of October.
page updated 2016-06-07