Philip Santo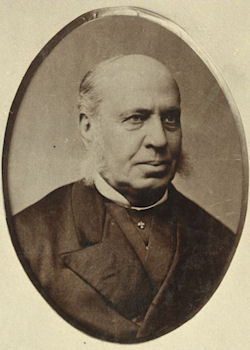 Philip Santo was born in Saltash on the 7th of August 1818. At the age of 22, after having learnt the carpentering and building trade, he left with his wife Elizabeth for the new British colony of South Australia on the Brightman, arriving at Holdfast Bay on the 13th of December 1840.
Adelaide was then a settlement of only four years' standing, and the buildings were neither very numerous nor very elegant from an architectural point of view. There was plenty of scope for Santo, who at once set up in business as a builder in Franklin Street. He quickly gained a good reputation, and assisted in the erection of some of the earliest large buildings in Adelaide.
Santo moved to the mining township of Burra in the late 1840s, taking employment as foreman of the works at the newly-established Burra Burra Copper Mine. When operations at the mine were interrupted in the early 1850s by the grand exodus to the Victorian gold fields, Santo went to Melbourne, a major boomtown during the gold rush, and traded there.
Returning to Adelaide in 1857, Santo went into business as a timber merchant with premises in Grote Street. The business grew rapidly, moving to Waymouth Street in 1866, and trading from 1873 as Philip Santo & Co in Waymouth Street and in Lipson Street, Port Adelaide. Having already diversified from timber to building materials, then general hardware, riverboats, and ships, by 1880 Santo was selling such disparate goods as patent medicines, perfumes and flavourings, American waggons, brooms, kerosene, gasoline, and cabinet organs.
In religious matters, Santo figured very prominently in the community. One of the first three elders elected by the Church of Christ, Grote street, he throughout his life took a deep interest in church affairs. He taught in the Church, frequently preached, and several times presided at the annual conference of the Churches of this denomination.
As a politician, Santo entered the service of his adopted country in 1860, when he was elected to the South Australian House of Assembly as one of six representatives for the City of Adelaide. This was the second elected Parliament of the colony, just three years after the establishment of responsible government. The third Parliament also saw him a member, when he was returned for the newly created District of East Adelaide, and he also represented that electorate in the fourth Parliament. Entering the fifth Parliament in 1868 as one of the representatives of the Barossa district, he remained in the Assembly until 1870. During these ten years he filled at various times a seat on the Ministerial benches, numbering amongst his colleagues some of the best-known politicians in the history of South Australia. Altogether he served in six Ministries, and in each of these this "most conscientious, loyal, and worthy colleague" filled the office of Commissioner of Public Works.
After retiring from the Assembly, Santo contested a seat in the Legislative Council and, in October 1870, was elected to the Upper House by the whole province, which in those days voted as one electoral district. From this position he retired by rotation in 1881, having thus spent over 20 years continuously in the Legislature of the colony. Although he offered himself for re-election in 1881, again in 1885, and once more in 1887, he was each time defeated, and afterwards lived in comparative retirement, except for retaining a considerable interest in mining affairs. He was made an Honourable in 1887, for his services to the country.
Santo and his wife had five daughters and a son. Their eldest daughter Mary (1841–1941) married James Shaw Greer who later became the mayor of Unley. Elizabeth (1845–1923) married James Smith, one of her father's business partners. Jane (1848–1875) married the Reverend Thomas Jefferson Gore MA, minister of the Church of Christ in Grote Street. Sarah (1850–1945) married her older sister's widower, becoming the second Mrs Gore in 1876. Santo's youngest daughter and last child was Esther (1852–1941). His son Philip was a prize-winning student at Adelaide Educational Institution, and worked for a time in his father's shop, but died at an early age from diphtheria, leaving a wife and two daughters.
In his younger days Santo was a good runner and swimmer, and he always enjoyed excellent health right up to the time of his last illness. He had been ailing for some weeks when he slipped into unconsciousness and died a day or two later on the 17th of December 1889 at his residence, Fernleigh House, West Terrace, Adelaide.
page updated 2016-06-07