Shopping and Travel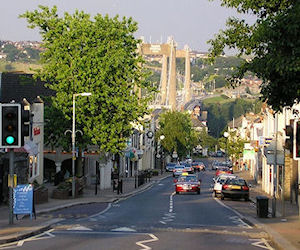 Fore Street and its immediate environs is the retail hub of Saltash, with a wide range of shops and other businesses catering for almost every need or desire. In addition to the many open during business hours only, there are several convenience stores, a supermarket, and a dispensing chemist, which are open 7 days a week and for longer hours.
There are also a number of retail businesses located here and there throughout the town and on its outskirts, including two supermarkets and several other convenience stores, all of which open long hours 7 days a week, and a dispensing chemist.
Waitrose Supermarket, Tamar View, PL12 6LD
Lidl Supermarket, Gilston Road, PL12 6TW
SPAR Saltash, 376 New Road, PL12 6HW
SPAR, 47 Mote Park, PL12 4JY
Lloyds Pharmacy, 139 Callington Road, PL12 6EB
Martins, 133 Callington Road, PL12 6EB
Church Road Stores, Gordon Court, PL12 4EF
SPAR Cross Park, 135 St Stephens Road, PL12 4NH
Getting around the town is easy. Several buses run circular routes to and from Fore Street, between them serving every part of the town, and there are established and reliable taxi firms based in Saltash. The town centre has two long stay and two short stay pay-and-display car parks, and there are four free car parks just a few minutes' walk from Fore Street.
For those travelling to and from further afield, the A38 trunk road runs across the parish from the Tamar Bridge (which is free west-bound into Cornwall, but charges a toll if you want to leave!), there are frequent buses to Plymouth, and Saltash is also well served by long-distance coaches and trains.
Buses and Coaches: The Bus Times website has a list of all bus and coach routes serving Saltash, with a list of all stops in the town centre, and a map showing their locations. They have a similar page for bus services in Burraton, one for bus services at Carkeel, and another for bus services in Latchbrook. Select a stop from the list or the map for a new page showing a photo of that stop and its exact location, with a list of the services which stop there, and a 'departures board' (updated in real time) with times, route numbers, and final destinations. Each route number is linked to the current timetable for that route.
Pay-and-display Car Parks:
Trains: The Cornish Main Line from Penzance to Plymouth provides regular trains stopping at Saltash. This line and its branches serve all stations in Cornwall, and it connects at Plymouth with direct lines serving all other parts of the country. The Railway Station website has a Saltash Station 'Arrivals and Departures' list (updated in real time), with full timetable and other details of each service.
Travelling Conditions: If you want to check on road and/or weather conditions before you set out, Frixo is a free service which provides current Road Traffic Reports, updated every 3 minutes, and also weather forecasts.
page updated 2016-06-07